We don't have to look to a third-world country to find a hungry population. Hunger is here in our own backyards. With 49 million hungry people in the U.S., it is likely you are touched by food insecurity at some point during your day.
Nationwide, organizations dedicated to feeding the hungry are struggling to provide enough to eat for those who rely on them. And milk is one of their most limited, and most often requested, resources.
In a
Progressive Grocer
article, Elaine Waxman, vice president of research and partnerships for Feeding America, notes, "Dairy products comprise just 5 percent of the inventory in Feeding America stores." Spread over the 37 million hungry Americans this organization feeds each year, that equates to less than a gallon of milk per person.
In an effort to narrow that gap, Milk PEP (Milk Processor Education Program) has partnered with Feeding America and the National Dairy Council to launch The Great American Milk Drive. This is a multi-faceted, multi-year push to get milk in the hands of the food insecure.
Milk PEP will direct more than $12.5 million of support toward this initiative. Local retailers can activate the program at any time, adds Julia Kadison, Milk PEP's interim CEO. She further encouraged grocers to promote the program during three key drive times: summer (when students aren't receiving milk nutrients through school lunches), back to school and the holiday season.
Milk PEP approached Feeding America in November, added Waxman. The initiative, launching within weeks of the industry's new Milk Life campaign, will serve to address the issue of U.S. hunger. Between April 14 and May 25, Milk PEP will offer a gallon-for-gallon matching event to help incite immediate donations, noted Kadison in the article.
This $250,000 gallon-for-gallon matching maximum will be messaged in stores by 14,000 retail locations and on-package messaging on 5 million gallons of milk.
Programs will enable consumers to donate off-site at milklife.com/give or in store via checkout programs, donation collection or in-store matching.
---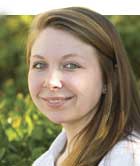 The author, Amanda Smith,was an associate editor and an animal science graduate of Cornell University. Smith covered feeding, milk quality and headed up the World Dairy Expo Supplement. She grew up on a Medina, N.Y., dairy, and interned at a 1,700-cow western New York dairy, a large New York calf and heifer farm, and studied in New Zealand for one semester.