June is an exciting time for the dairy industry . . . amiable weather, bustling activity and overall enthusiasm for milk and dairy products. The most obvious signs of dairy promotion are Breakfast on the Farm events, where rural and urban dwellers enjoy the morning meal showcasing agriculture and the dairy industry.
Michigan State University conducted a
study as to the financial and social benefits of Breakfast on the Farm.
Over 90 percent of attendees leave these events with a positive impression about modern dairy farming, greater trust in milk as a safe food and an improved trust in farmers as a source of information about food production.
When consumers can learn about how their food is grown from someone who does it every day, it leaves an impression. The enthusiasm for what they do is conveyed in the twinkle in their eye and the passion in their speech. When they see and touch farm life, it's hard for any consumer to deny the American Farmer's love for his chosen calling. And when they hear questionable stories about ag in the future, the consumer can reflect on what they saw, heard and learned at a Breakfast on the Farm (BOTF) event and trust that their experiences will trump others' hearsay.
In addition to leaving with new experiences, attendees talked about the events with others, including family, friends and co-workers. Twenty percent reached out to others on social media to share what they learned. Eighty-eight percent encouraged others to attend BOTF events, while only 7 percent left with concerns. The survey did not specify those concerns, but if I was to speculate, if their question was asked while they were there, it would have been answered and alleviated their inquisitive observation.
What difference can a BOTF make?
Of the 5,635 households that attended the 2012 Breakfast on the Farm in Michigan, they reached over 120,000
more
individuals by sharing their views of the day through various modes of communication. That's 20 times the people who were there in person!
Because of their attendance, households purchased more dairy products. From this specific event, their stepped-up consumption generated a jump in sales of over $400,000 for milk, cheese and yogurt. Yes, dairy promotion events make a difference.
So, this month, take in a dairy breakfast or two. Talk to the person next to you. Are they from a farm? If not, you may be able to answer questions that they didn't have the courage to ask in a larger setting. Remember, you are not just telling one person, you could be reaching 20 additional people with your message.
To learn more about Dairy Promotion follow the link.
---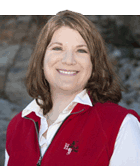 The author is the online media manager and is responsible for the website, webinars and social media. A graduate of Modesto Junior College and Fresno State, she was raised on a California dairy and frequently blogs on youth programs and consumer issues.