As our industry looks for the most efficient dairy animal, some are turning towards the idea of a smaller cow. But size isn't everything, some researchers are saying.
"I want an animal that produces a lot of milk from the food she eats," said Michael VandeHaar, Michigan State University, when he spoke at the Four-State Dairy Nutrition and Management Conference held in Dubuque, Iowa.
Every cow has an energy maintenance requirement, which is related to body weight. When a cow eats more than her maintenance requirement, the extra goes to milk or body tissue production. The more a cow eats, the portion of feed that goes towards maintenance becomes a smaller fraction of total intake. This is called "dilution of maintenance."
The gain in efficiency from diluting maintenance, however, diminishes with each successive bump in feed intake. Efficiency is greatest when milk production exceeds 4 times the maintenance requirement, but that varies greatly by cow, noted VandeHaar.
A smaller cow may require less energy for maintenance, but breeding for smaller cows lessens our ability to select for traits that we know are profitable, including milk production, health and fertility, VandeHaar said.
Also presenting on the topic was Kent Weigel, University of Wisconsin-Madison, who made similar remarks. He explained that of all the sires with semen available for purchase right now, only a few handfuls of bulls are below average for stature. This makes it difficult to select for size in conjunction with other more productive traits.
VandeHaar, Weigel and other dairy scientists are currently involved with a research project measuring feed intakes, body weight and production data from 8,000 cows in several countries. They hope to learn more about what makes a feed-efficient cow.
For VandeHaar, cow size matters more for facilities than it does for feed efficiency. "If cows no longer fit in the stalls, they are too big. Otherwise, (size) doesn't really matter," he commented.
Rather than focusing on one trait, we can improve feed efficiency by how we feed, breed and manage cows, VandeHaar explained.
---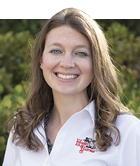 The author is an associate editor and covers animal health, dairy housing and equipment, and nutrient management. She grew up on a dairy farm near Plymouth, Wis., and previously served as a University of Wisconsin agricultural extension agent. She received a master's degree from North Carolina State University and a bachelor's from University of Wisconsin-Madison.