The high selling animal at the World Classic 2014 was Lot 19, De-Su 1912-ET at $74,000. She is a Mountfield SSI Dcy Mogul daughter consigned by Skyreach, Ferme Vigno and Kings-Ransom, New York. She is +2452 GTPI and from four generations of VG or Excellent dams that have earned Dam of Merit recognition. She was purchased by Siemers Holsteins, Wisconsin.
Selling for $70,000 was a first choice female by Main Event or Delta from Calbrett Supersire Barb with a GTPI of +2486. The choice was consigned by Jim Vierhhout and acquired by Diamond Genetics, Mercuro, Anderstropp and Drakker of the Netherlands.
Rounding out the top three was De-Su Galaxy 3262 with a GTPI of +2422, sired by De-Su Freddie Galaxy and from De-Su 1563, a Very Good-85 Bookem daughter. She was consigned by her breeder, De-Su Holsteins of Iowa, and she will travel north to Minnesota as she was bought by Larry Lexvold, Minnesota.
By the end of the night, 52 lots sold to 14 states and four countries, for an average of 23,234 per head. Tom Morris, Ltd. managed the sale which was held on the colored shaving in the Coliseum Friday night.
A special highlight of the evening was the selling of the donation calf, Hezbollah Ashock Ms Horace-ET. The calf was generously donated by St. Jacob's, Woodmansee and Vail and proceeds went to the
Holstein Foundation's Horace Backus scholarship fund,
to assist a dairy producer or cattle breeder to attend the Young Dairy Leaders Institute. A total of $21,000 was raised for the fund.
---
The Top of the World Jersey Sale averaged $4,247.62 on 21 head. The high seller at $10,100 was TLJ Visionary Bree-ET. She was consigned by Travis Lehnertz, Minnesota, and purchased by Matthew Steiner of Ohio. Second-high seller was Ratliff Action Angela-ET, consigned by Ratliff Jerseys, Kansas, and purchased by Sistrunk Farms, Lousiana, for $7,300.
Jersey cattle sold to 10 states and three countries.
---
The International Guernsey Sale averaged $4,160 on the 26 female lots. High seller was Guernsey View Wii's Amy, a daughter of Golden J Ronald Grumpy. She was a consignment from Cedar Ridge Farms, New Brunswick, Canada. For $8,000, Amy was the selection of Ros-Sue-Kim Guernseys in North Dakota. The sale was managed by Guernsey Marketing Service.
---
Norm Magnussen managed The World Premier Brown Swiss Sale. The 25 lots averaged $5,910. Topping the sale was Brown Heaven Bonanza Frosty, a consignment of Brown Heaven Farm of Quebec, Canada. Her new owner is Bradner Farms of British Columbia, Canada.
Second high seller was Blessing Faust Alexa. She commanded a price of $9,900 and was the choice of Cynthia Ziegler, Wisconsin and the consignment of Blessing Farm, Indiana.
---
The World Ayrshire Event averaged $6,025 on 8 live animals, $4,450 average on the two picks of flush, and the 5 embryo packages averaged $480 per embryo. The American Ayrshire Breeders handled the sale.
---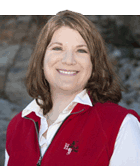 The author is the online media manager and is responsible for the website, webinars and social media. A graduate of Modesto Junior College and Fresno State, she was raised on a California dairy and frequently blogs on youth programs and consumer issues.