In the Junior Supreme Champion ceremony, the seven breed champions paraded under the spotlight in front of a packed Coliseum crowd. The bright lights stopped on the Jersey, Payneside GG Got Milk, as she was named Reserve Supreme Champion of the Junior Show for Nic, Jeni, Ben and Andy Sauder of Illinois.
And that led to the announcement of the Junior Show's Supreme Champion. That honor was bestowed on the Holstein Champion, Fluery Damion Caraibe, who was exhibited by Zailey and Kaiden Conroy and Trevor Tuman, Minnesota. Trevor led Caraibe for the show.
Dale Bendig was presented the A.C. Whitey Thompson award at the Supreme Ceremony for his behind the scenes efforts, herdsmanship and sportsmanship.
Four-year-old TJ Classic Minister Venus-ET, owned by siblings exhibited by Nic, Jeni, Ben and Andy Sauder of Illinois, took home the highest honor at the conclusion of World Dairy Expo on Saturday evening. The Grand Champion of the Central National Jersey Show went on to be named Supreme Champion of the 2014 World Dairy Expo.
The 2012 Supreme Champion, RF Goldwyn Hailey, settled for Reserve Champion honors this year. Gen-Com of Quebec, Canada, exhibited the International Holstein Show's Grand Champion.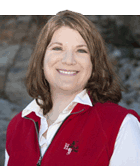 ---

The author is the online media manager and is responsible for the website, webinars and social media. A graduate of Modesto Junior College and Fresno State, she was raised on a California dairy and frequently blogs on youth programs and consumer issues.