Three dairy judging contests were held at the North American International Livestock Exposition (NAILE) in Louisville, Ky., on Sunday, November 9. In all, 51 teams participated in the collegiate, post-secondary and youth contests.
Midwest teams rise to the top in the youth division
With three individuals in the top 10, Minnesota 4-H led all teams in the youth contest with a score of 1919 points. Coming in second was their neighbor to the east, Wisconsin 4-H, with 1907 points. The team in third was Michigan 4-H, with a score of 1883. Florida 4-H was fourth, and New York 4-H was fifth.
Top youth team members: Coach Stacy Leiding, Kayla Leiding, Amy-Jo VanderWal, Clint Irrthum, and Haely Leiding from Minnesota 4-H.
The top individual in the contest was Alyssa Grocott from New York. She finished four points ahead of Amy-Jo VanderWal from Minnesota. Dawson Nickels from Wisconsin came in third, followed by Avery Kotlarczyk from Florida and Haely Leiding, also from Minnesota.
Florida 4-H won the reasons contest in a tiebreaker with Michigan 4-H. Minnesota 4-H finished in third. Top reasons individual was Sarah Thomas from North Carolina, followed by Florida's Avery Kotlarczyk, Dawson Nickels from Wisconsin, Rachel Ekkel from Michigan and Amy-Jo VanderWal from Minnesota.
Northern schools win collegiate contest, too
The team representing the University of Illinois won the collegiate contest with a score of 2044. Iowa State finished second, with 2036 pints, followed by the University of Wisconsin-Madison with a score of 2025. Fourth place was captured by Penn State, while the University of Minnesota came in fifth.
Top collegiate team members: Coach Gene McCoy, Jessica Telgmann, Samantha Ropp, Dylan Reed, and Brett Woker from the University of Illinois.
The top individual was Lars Sivesind from Iowa State. He finished six points ahead of second place Frankie Gambonini from Cal Poly. David Trcka from South Dakota State was third, followed by Samantha Ropp and Brett Woker, teammates from the University of Illinois, in fourth and fifth.
Emily Shaw from Penn State talked her way to the top in the reasons portion of the contest, edging past Iowa State's Lars Sivesind by one point. Katie Migliazzo and Frankie Gabonini from Cal Poly finished in third and fourth, and Eryn Orth from the University of Wisconsin-River Falls placed fifth. It was the team from Cal Poly that won the reasons contest, followed by Penn State in second and the University of Wisconsin-River Falls in third.
New York teams take top spots in the post-secondary division
A pair of teams from the state of New York earned first and second place honors in the post-secondary contest. SUNY Cobleskill was the clear winner, earning 2046 points, besting second place Morrisville State College by 70 points. Third place went the University of Wisconsin Farm and Industry Short Course, followed by Michigan Ag Tech in fourth and Merced Community College in fifth.
Top post-secondary team members: Coach John Tyron, Kimberly Merlau, Devin Sickles, Erika Gogis, and Tyler Hymers from SUNY Cobleskill.
The top individual came from the top team, as SUNY Cobleskill's Tyler Hymers won the contest by a decisive 20 points. He also won reasons. In second was Alton Rudgers from Morrisville State College. Hymer's teammates Erika Gogis and Devin Sickles from SUNY Cobleskill came in third and fourth, while Derrek Kamphuis from the University of Wisconsin Farm and Industry Short Course finished in fifth.
In reasons, the top two teams switched places, as Morrisville State College bested SUNY Cobleskill by 23 points. The University of Wisconsin Farm and Industry Short Course talked their way into third.
After Tyler Hymers in first place, were Morrisville teammates Alton Rudgers, Drew Hill and Evan Castrogiovanni in second, third and fourth place, respectively. Clinton Lundell of Merced Community College rounded out the top five.
New this year, the top individuals in each contest will have their name engraved on the George Heersche Jr. High Individual Overall Award. Heersche has served as the superintendent and co-superintendent of the youth, post-secondary and collegiate dairy cattle judging contests at the NAILE for more than a decade. The award recognizes his efforts in dairy youth development, both as contest superintendent and in his role as Extension Dairy Specialist at the University of Kentucky.
High individuals Alyssa Grocott (4-H), Tyler Hymers (post-secondary), and Lars Sivesind (collegiate) with Contest Superintendent George Heersche, Jr.
---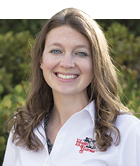 The author is an associate editor and covers animal health, dairy housing and equipment, and nutrient management. She grew up on a dairy farm near Plymouth, Wis., and previously served as a University of Wisconsin agricultural extension agent. She received a master's degree from North Carolina State University and a bachelor's from University of Wisconsin-Madison.