Take a seat, have a taste . . . and say hello to farmer Frank.
None of these are part of the grocery store shopping experience today, but "Supermarket Guru" and NBC Television Today Show food trends editor Phil Lempert (pictured here) says all of them are coming.

Speaking at the United Dairymen of Idaho annual meeting in Boise last week, he told listeners that, in addition to grocery shopping being low on consumers' list of favorite things to do, supermarket trends are changing at an increasingly faster pace. On top of that, "a lot of the food information out there for consumers is simply wrong."

He said that is where local farmers will come in.

He explained that a rapidly growing trend in food shopping is decidedly upscale. Such outlets are closer in scale to a grocery store than a supermarket - buildings half their current size with half as many varieties of the same thing, but intensely focused on high quality.

Their transformational difference, however, is they are positioned and outfitted to be "social destinations" rather than commodity warehouses.

Picture Costco versus Whole Foods in your mind - and then magnify the difference many times. Be sure to include the background music and lighting, premium flooring, displays and decorating, cooking demonstrations, sample tasting of just about everything, sit-down bars and dining areas.

He said the premise of such stores will be personal service, including the on-site expertise of professionals such as butchers, fish mongers, wine sommeliers, chefs, dietitians . . . and yes, farmers.

"The new celebrity is the farmer when it comes to food because of the credibility they have," explained Lempert. Interacting with farmers is becoming increasingly important to consumers because they "Feel passionate about things they know nothing about, like farming and sustainability practices."

---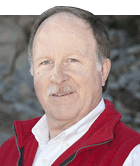 The author has served large Western dairy readers for the past 37 years and manages Hoard's WEST, a publication written specifically for Western herds. He is a graduate of Cal Poly-San Luis Obispo, majored in journalism and is known as a Western dairying specialist.