In the middle of a rising global flood of dairy products, the government of Nigeria has announced a plan to wildly increase its use of them.
In late October, the Nigerian government said it wants to combat widespread childhood malnourishment by starting a program next year that would eventually provide a liter of milk per day to over 30 million schoolchildren.
That is a fantastic public health idea, but one that seems deep in the realm of science fiction.
The huge takeaway message, though, is that Nigeria is talking about a national nutrition program built upon dairy. That's because, according to the United Nations Population Division, Nigeria is forecast to have the third-largest population in the world in 2050, tied with the U.S.
That is a
lot
of mouths to feed and dairy products rarely go into them now, which means the potential for dairy growth in Nigeria is huge. Much of that would likely come via exports from Europe.
According to the Department of Animal Production and Health, University of Agriculture in Abeokuta, Nigeria, average dairy consumption in the country in 2011 was just 4.4 pounds per person. About 75 percent of total usage is imported, mainly in the form of powder, which means domestic production is minimal.
It says Nigeria has about 16 million head of cattle and buffalo, although very few are dairy animals. It is unclear how many dairy herds exist, but the number appears to be tiny. Total domestic milk production is just 1.33 billion pounds per year. By comparison, California makes that much in 12 days.
This is where Nigeria's milk plan for schoolchildren goes far off the rails of plausibility. All by itself, a liter of milk per day for 30 million children equals 13.3 billion pounds per nine-month school year - and that is if it has the infrastructure to gather, package, store and deliver it.
Still, the desire by any nation to boost milk consumption and improve the health of its citizens, even if it doesn't happen quickly, is an idea with long-range positive implications for milk producers everywhere.
---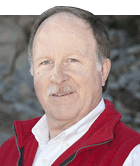 The author has served large Western dairy readers for the past 38 years and manages Hoard's WEST, a publication written specifically for Western herds. He is a graduate of Cal Poly-San Luis Obispo, majored in journalism and is known as a Western dairying specialist.