Even with milk prices down, whole cottonseed prices were on track to be up this year – and then Hurricane Joaquin slammed the Carolinas in early October just prior to harvest.
Called a "once in a thousand years" storm, Joaquin was blamed for a dozen deaths as it flooded parts of the Carolinas with up to 20 inches of rain, prompting President Obama to declare a state of emergency in South Carolina.
Those rains drenched a 500-mile wide swath that included the important Mid-South cotton growing area, "decimating a significant portion of that region's 2015 crop," according to Cotton Incorporated.
Wet weather was also a big problem in Texas, which accounts for over half of all cotton acreage in the U.S. The Mid-South is the second largest cotton area.
Smaller U.S. cotton crop in 2015

2014

2015

Difference

Acres planted (millions)

11.010

8.556

-22.3%

Acres harvested (millions)

9.861

8.166

-17.2%

Pounds per acre harvested

790

784

-0.8%

Total harvest (millions of bales)

16.255

13.338

-17.9%

(Source: USDA October Crop Production Reports)
"Due to the smaller crop, prices will most likely go up and be relatively strong this fall and winter," predicts cottonseed merchandiser Larry Johnson of Cottonseed LLC in La Crosse, Wis.
While the 2015 U.S. cotton crop is projected to be 17.9 percent smaller than last year, Tom Wedegaertner, director of research and marketing at Cotton Incorporated, estimates the amount of whole cottonseed available for feeding dairy cows will be 19.4 percent less.
---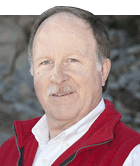 The author has served large Western dairy readers for the past 38 years and manages Hoard's WEST, a publication written specifically for Western herds. He is a graduate of Cal Poly-San Luis Obispo, majored in journalism and is known as a Western dairying specialist.