The firestorm that the Environmental Protection Agency (EPA) ignited last May with a proposal to redefine "waters of the United States" (WOTUS) under the Clean Water Act – which opponents said is really a grab for more regulatory power - intensified dramatically this week.
And in the process, EPA's credibility went even deeper down the drain.
In a
26-page report issued on Monday
, legal counsel for the non-partisan Government Accountability Office (GAO) said the aggressive social media campaign used by EPA to promote its "Clean Water Rule" broke two federal laws in 2014 and 2015: one about publicity and promotion, the other about lobbying.
GAO's brief overview summary of the report gives a terse synopsis of the violations:
"Specifically, EPA violated the publicity or propaganda prohibition though its use of a platform known as Thunderclap that allows a single message to be shared across multiple Facebook, Twitter, and Tumblr accounts at the same time. EPA engaged in covert propaganda when the agency did not identify EPA's role as the creator of the Thunderclap message to the target audience.
"EPA also violated anti-lobbying provisions though its hyperlinks to certain external web pages in an EPA blog post. Both of the external web pages led to appeals to the public to contact Congress in support of the WOTUS rule, which taken in context, constituted appeals to contact Congress in opposition to pending legislation."
In a New York Times article on Wednesday, EPA spokesperson Liz Purchia basically said: no we didn't.
"We use social media tools just like all organizations to stay connected and inform people across the country about our activities. At no point did the EPA encourage the public to contact Congress or any state legislature," she said.
The GAO report has intensified opinions by lawmakers and agricultural groups who believe that EPA does whatever it wants and cares little or nothing about outside opinions.
Environment and Public Works Committee chairman James Inhofe (R-Okla.) said, "GAO's finding confirms what I have long suspected, that EPA will go to extreme lengths and even violate the law to promote its activist environmental agenda."
Daniel Sullivan (R-Alaska), chairman of the Senate Environment and Public Works Committee's subcommittee on Fisheries, Water and Wildlife, was equally blunt. "EPA consistently earns its moniker as a "rogue agency" with its persistent disregard for the rule of law. Once again, EPA has demonstrated it will go to any lengths to push its extreme environmental agenda."
---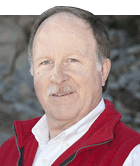 The author has served large Western dairy readers for the past 38 years and manages Hoard's WEST, a publication written specifically for Western herds. He is a graduate of Cal Poly-San Luis Obispo, majored in journalism and is known as a Western dairying specialist.