Keeping teats soft and healthy is the goal of every producer, but becomes more challenging during winter's cold temperatures. Leo Timms, Iowa State University, discussed this topic during the
Hoard's Dairyman
monthly webinar.
Cold temperatures cause cellular stress on teats. In as quick as 12 hours, teats react. They're exposed to the elements and have little protection. To compound the problem, cows that move from warm to cold temperatures, like from a parlor or stall barn, to an outdoor feed bunk, are at greater risk for teat damage. The degree of change is the problem.
When there is a heightened incidence of teat damage, "Don't make drastic changes. Many change dips immediately thinking that will solve it," Timms stressed. "The solution is rarely that easy."
Timms encourages producers to teat score their cows. Approximately 20 percent of the cows in herds can have a rough ring or very rough ring on teat ends, but experts would like to see that number around 10 percent.
Genetics impact teat shape and therefore susceptibility to teat damage. While there is not a genetic selection trait for teat health, Timms suggests looking at sires in your problem cows' pedigrees to see if those bulls can be minimized in future generations.
While you cannot control the weather, managing it is an option. Cows can tolerate temperatures as low as minus 20 degrees, but temperature swings are the flashpoint. Wind control is one option. Do cows leave the parlor and have to walk in open air to reach feed or a free stall barn without a windbreak? The change in temperature from the milking parlor to outside is a shock to the teat, often resulting in cracking.
A windbreak might be an easy solution. Other considerations include being more cognizant of open barn doors and attentive to how long doors stay open.
Some incorrectly believe that cold temperatures kill bacteria that could reside in bedding. "While the ambient temperature is cold, a cow lying in a stall will raise the temperature of the stall floor to just 10 degrees below her body temperature. And, bugs can certainly grow then," warned Timms.
Problems that go unnoticed throughout the year can manifest themselves in winter. Proper milking equipment and procedures do not make up for poor cow hygiene. Inflations, milk hoses and vacuum hoses should be changed regularly. When cracked teats come in contact with poorly functioning equipment it exaggerates the problem.
Timms reminded listeners, "Machines that stay on too long cause irritation and are the greatest risk to teat health." Nothing will prevent all cracked teats, but managing what you can control will go along way during winter.
"Winter strategies to enhance teat health and milk quality"
has been archived here.
Kuhn North America
sponsored the webinar.
---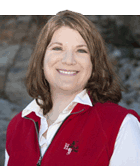 The author is the online media manager and is responsible for the website, webinars and social media. A graduate of Modesto Junior College and Fresno State, she was raised on a California dairy and frequently blogs on youth programs and consumer issues.