It was drilled into my head from a very young age to watch out for calves with droopy ears, sunken eyes and clear signs of illness. Many producers use physical and behavioral signs such as these to detect sick animals on the farm in conjunction with other monitoring strategies such as taking temperatures and watching milk production.
The standard sickness monitoring strategy for cows that become ketotic following calving has been the use of urine, blood or milk samples. These are effective in identifying cows already suffering the effects of the energy imbalances that cause ketosis.
Recently, Canadian researchers shifted their focus to detecting cows at risk for becoming ketotic. They measured the standing behavior of transition cows a week prior to calving and three weeks after and found that cows suffering from clinical ketosis following calving stood 20 percent longer during the week preceding calving than cows that did not have ketosis. On the day of calving, the cows that would later suffer from clinical ketosis stood 35 percent longer than cows that never became ketotic. The scientists also found that the cows that stood longer would do so in fewer bouts specifically on the day of calving.
The researchers associated these changes in standing behavior to the cows feeling ill prior to showing clinical signs. Their study indicates the changes in standing time were correlated to the incidence of illness, and they suggested that producers monitoring this behavior might be able to reduce the frequency of ketosis issues in the herd.
It is important to note, though, that these behaviors may also vary depending on the environment provided for the transition cows. Ketotic animals especially struggle in situations where the pens are overstocked, as they show less willingness to fight for a place to eat or rest.
The standing behaviors can be monitored by farm employees or by activity monitoring technology, but this research seems to show there is more hope for detecting, identifying and treating ketosis in at-risk cows before it brings them to a standstill in health and production.
---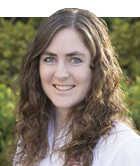 The author was the 26th Hoard's Dairyman editorial intern. She is a senior at Kansas State University in Manhattan, Kan. At KSU, Maggie is double majoring in agricultural communications and journalism and animal sciences and industry. Seiler grew up on a 130-cow registered Holstein dairy in Valley Center, Kan., near Wichita.