A six-month search by California's largest dairy producer lobbying and advocacy organization came to fruition last week, with the hiring of Anja Raudabaugh (pictured) as the new chief executive officer of Western United Dairymen (WUD).
WUD is a voluntary membership organization representing the majority of the milk produced in California. Its efforts on behalf of members include labor law, environmental regulations, and pricing issues. Members decide the direction of state and federal legislative efforts affecting the dairy industry.
Raudabaugh replaces previous CEO Michael Marsh, who was dismissed by the board of directors in December 2014. She will assume her duties in late July.
Since 2001 she has been executive director of the Madera County Farm Bureau, which is also a voluntary membership organization and whose purpose is to protect and promote agricultural interests throughout California. It is of a similar size as WUD and is active on many of the same political and environmental issues, including those associated with the state's ongoing drought.
She was previously a project manager for a Fortune 500 company, a senior legislative assistant for a U.S. Congressman, the marketing director at the California Asparagus Commission, and was a district representative for a California State Senator.
Her extensive time in Sacramento often included working on California Environmental Quality Act (CEQA) and National Environmental Policy Act (NEPA) regulations.
Raudabaugh has a Bachelor of Science Degree in Biology from the University of the Pacific in Stockton, and a Master of Science Degree in Biochemistry from U.C. Davis, with an emphasis in global pandemics and infectious diseases.
---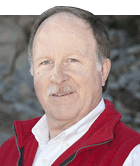 The author has served large Western dairy readers for the past 38 years and manages Hoard's WEST, a publication written specifically for Western herds. He is a graduate of Cal Poly-San Luis Obispo, majored in journalism and is known as a Western dairying specialist.