By Patti Hurtgen, Hoard's Dairyman Online Media Manager
The day after the contest, I had a chance to sit down with Becky Meier, the coach of both national winning junior and senior dairy bowl teams at the recent Holstein convention. Becky is one of three coaches for the state's teams. The Illinois Holstein Association appointed her as the perennial coach to add continuity to their program as changing coaches with new advisors didn't provide consistency.
(A future blog will focus on study strategies.)
We discussed a variety of topics including the selection of the state team, practice strategies and building the team concept. Becky isn't a parent to any of the youth. She has nieces and nephews who will participate in a few years, so she brings an unbiased attitude.
The junior team placed second last year and the seniors were second a year earlier. The core members of the teams are the same. The camaraderie they formed over the past few years contributed to their success.
Not all juniors live on a farm or come from Holstein backgrounds. The welcoming family feel has embraced those from "outside the traditional Holstein circles" into the Illinois family. And, those one-time outsiders have flourished. The highest overall senior written test score from a competitor was Illinois' Sarah Duncan, a non-farm girl and a UW-Platteville student.
At the conclusion of the interview, Becky grabbed her cellphone to show me a recent Facebook post. "This really is what it's really all about," she said with a lump in her throat as she passed me her phone.
"Today I was lucky enough to be the captain of the winning senior dairy quiz bowl team at the National Holstein Convention in my home state!Three years ago I didn't even know what dairy bowl was. For the past three years, I've been blessed with many awards, but I can't take credit for all these accomplishments. I've had many great mentors. For starters, to Aaron Heinzmann who introduced me to dairy bowl. You spent countless hours helping me prepare for judging, but also quiz bowl. I know I could always count on you. No amount of thank yous will ever repay you for helping me succeed.A huge shoutout to our three amazing dairy bowl coaches, Glen Meier, Becky Meier and John Mitchell, who have devoted countless hours to helping us prepare. These three would bend over backwards to help anyone! Winning the dairy bowl finals today was the least we could do to repay you for your hard work and dedication to us. Without your support and being great role models for us to follow, we wouldn't be half the kids we are today! I will never forget this convention or these heroes that have impacted my life. If I'm half of the person any of these individuals are, I know I must've done something right!"
- written by senior team captain, Dylan Reed, University of Illinois student
While the trophy was a reward for that day, the lingering impact of the total experience is far more valuable.

---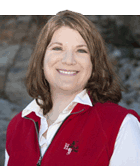 The author is the online media manager and is responsible for the website, webinars and social media. A graduate of Modesto Junior College and Fresno State, she was raised on a California dairy and frequently blogs on youth programs and consumer issues.