The
International Guernsey Classic Sale
averaged $3,638 on 25 lots. The high seller was Four Winds DC Cupid-ET. She was consigned by Clark and Joy Vilter, Hartland, Wis., and purchased by Bill and Linda Blue of Circleville, Ohio for $6,500. Guernsey Marketing Service handles the sale management.
Jersey Marketing Service averaged $3,129 on 23 lots in their
Top of the World Jersey Sale.
Buyers came from 14 different states to take home their new additions. Top seller was Ratliff Action Anita for $7,400. The consignment from Ron and Chriti Ratliff of Kansas, Anita heads to Pennsylvania for new owner Ellie McKissick. Ratliffs were the successful bidder on the second highest seller, Mead-Manner Tequila Pryia. She was consigned by Mike Moede of Wisconsin. Pryia sold for $6,400.
The
World Premier Brown Swiss Sale
averaged $5,400 on 32 live lots. Top seller was Top Acres HP Peppy Wyza-ETV. Consigned by Wayne Sliker and Hillpoint Partners, Wyza heads to New York to new owners, Ken Main and Peter Vail for $10,100. Brown Swiss Sale Service, led by Norm Magnussen served as sale management.
The top seller in the
World Premier Milking Shorthorn Sale
was Innisfail-WD C-Tie Lemnade Exp for $8,100. Bill Bartlett of Massachusetts was the winning bidder for the consignment from John Stuart Rowe and Katie Bue of Wisconsin. The sale averaged $3,578 on 11 live lots and was managed by Norm Magnussen of Brown Swiss Sale Service.
Ayrshire breeders enjoyed a great sale as well. Fourteen lots in the
World Ayrshire Event
averaged $4,437 on the live lots. At 9,900, Lot 1 Hazcroft Rockin Call Girl-ET was the high seller for Rob Hazeltine of Wisconsin. She was purchased by Steve Rowley of Mississippi. The sale was under the management of the Ayrshire Breeders' Association, which held its first live online sale for U.S. Ayrshires at World Dairy Expo this year. Ayrshire buyers were scattered among eight states.
The week's sales concluded with Holsteins at Friday night's
World Classic 2015.
The sale was the highest averaging of the World Dairy Expo Sales. Forty-seven lots averaged $27,757, led by the top seller, Gil-Gar Sshot Faith-ET boasting $117,000. Faith was consigned by Stelling Farms of Minnesota and now calls Idaho home with Triple Crown Genetics and Abe Light. Also heading to Idaho is the second highest seller, Peak Lach Sshot 1217-ET. Seagull Bay Holsteins take home this May 2015 heifer for $100,000. Rounding out the top three, Green-Banks Monterey 6304-ET sold for $97,000. The consignment of Green-Banks Farm, this February calf joins the Peak Genetics program, based in Watertown, Wis. The sale was managed by Tom Morris, Ltd and cattle buyers represented 12 states and three Canadian provinces, as well as three countries.
---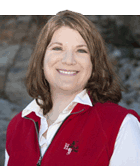 The author is the online media manager and is responsible for the website, webinars and social media. A graduate of Modesto Junior College and Fresno State, she was raised on a California dairy and frequently blogs on youth programs and consumer issues.