For the second year in a row, the Holstein, followed by the Jersey were named Supreme Champion of the junior shows at World Dairy Expo. And, it was also a repeat for their owners, Trevor Tuman and Chandler Bening of Minnesota with their Holstein and Ben Sauder with his Jersey. Blondin Goldwyn Subliminal-ETS is the Holstein and Willdina Jade Bee is the Jersey.
Others in contention were the Grand Champion Ayrshire, Cedarcut Burdette Clove Colata owned by Erin Curtis-Szalach, N.Y.; Grand Champion Brown Swiss Cutting Edge T Delilah, owned by Kyle Barton, N.Y.; Grand Champion Guernsey Knapps Regis Tambourine-ET, owned by Austin and Landen Knapp, Iowa; Grand Champion Milking Shorthorn Innisfail RO Lady 906-EXP, owned by Lindsey Clark, N.H.; Red & White Grand Champion Cleland Absolute Coleen-Red exhibited by the four Stransky brothers, Joseph, Zach, Jerome and Darien, of Owatanna, Minn.
---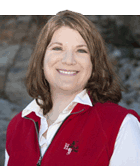 The author is the online media manager and is responsible for the website, webinars and social media. A graduate of Modesto Junior College and Fresno State, she was raised on a California dairy and frequently blogs on youth programs and consumer issues.