During "A crop and feed outlook for the months ahead" webinar, Mike Hutjens and Mike Rankin gave an overview of dairy ration ingredients and where prices have been and may be heading. In addition to price, they also looked at this year's forage quality. Weather wreaks havoc, not just on the land, but alters quality and ultimately the price of forages.
Hay & Forage Grower
managing editor, Rankin, shared that alfalfa hay is in the $159 per ton range, which is down from the $200 levels seen the past four years. With prices lower, hay growers are holding tight to supplies, hoping for a price surge. With higher values in the not-so-distant past, producers have altered rations and reduced alfalfa feeding. Just like with milk pricing, exports tip the scale. With hay exports trending downward, supplies stay plentiful. The result has been less current demand, ample supplies and palatable costs.
Alfalfa needs water and out west, it's at a premium. Last year there were 108,000 fewer acres planted to alfalfa – half of the drop was in California. The Western drought caused the fewest alfalfa acres to be planted since 1939. Additionally, widespread wildfires left a smoky haze that slowed hay drying.
But, parts of the U.S. did see copious amounts of precipitation. Unfortunately, that translated into lower quality forage. Some remarked, "It's the worst haymaking weather!" Field damages were also seen. As a reprieve, third and fourth cuttings saw a quality upswing.
Corn silage quality varied a lot due to poor stands in wet spots and some corn with small plants and no ears due to leaching of soil nitrogen following heavy rainfalls. University of Illinois' Hutjens cautioned those buying corn to have their eyes wide open. Carefully evaluate price as it relates to quality. Purchase on a dry matter basis and adjust for starch (energy) content and neutral detergent fiber digestibility (NDFD).
Once feed is secured, it needs to be managed well. Use inoculants, remove about 6 inches from the face of the pile daily and watch for mold.
Cottonseed's price has excluded it from many rations. Low-priced soybeans may help fill the protein void in some rations.
Wheat and straw this year was on the wetter side. The major concern is vomitoxin (DON). While straw is not typically fed to milking cows, those feeding straw to dry cows need to be concerned about straw quality and how much is fed.
Hutjens uses FeedVal to determine whether feeds are a good buy for their nutritional value. He emphasized that FeedVal enables you to compare local feed prices. Alfalfa at its current price, is not a steal, and neither is straw. Shelled corn, as well as byproducts – distillers grains and corn gluten feed – are good buys at current prices.
To watch the hour-long presentation and learn more, follow this
link
.
Our past webinars
are also archived. The October webinar was sponsored by
Zinpro Performance Minerals.
---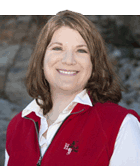 The author is the online media manager and is responsible for the website, webinars and social media. A graduate of Modesto Junior College and Fresno State, she was raised on a California dairy and frequently blogs on youth programs and consumer issues.