Already one of the biggest single site cheese and whey protein powder processing plants in the world, a $140 million expansion of the Southwest Cheese facility in Clovis, N.M., was announced last week that will increase capacity by 30 percent. The project is expected to take two years.
Southwest Cheese is a 50:50 joint venture between Glanbia Plc and the Greater Southwest Agency, which consists of Dairy Farmers of America Inc. and Select Milk Producers Inc.
Construction of the original $200 million facility began in 2004. The first few loads of milk were received in October 2005, and the plant ramped up to begin full-scale operation in October 2006.
In 2010, a $100 million expansion project increased capacity by an additional 33 percent. Glanbia's press release last week said the plant currently processes 220 loads of milk per day (11 million pounds), which equals 4 billion pounds per year.
The new expansion will boost capacity to approximately 14.3 million pounds per day, or 5.2 billion pounds per year.
Total statewide milk production in New Mexico, which ranked as the nation's ninth largest dairy state in 2014, was 8.1 billion pounds.
In making the announcement, Glanbia Global Ingredients CEO Brian Phelan said the expansion represents a commitment "to our employees, our producers, our customers, our local community and the economy of New Mexico as we seek to capture further domestic and international cheese and whey market share."
---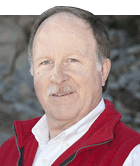 The author has served large Western dairy readers for the past 38 years and manages Hoard's WEST, a publication written specifically for Western herds. He is a graduate of Cal Poly-San Luis Obispo, majored in journalism and is known as a Western dairying specialist.