In the areas of the country where open-lot dairies are popular, the onset of winter means a welcome chance of rain, particularly with El Niño predictions this year. However, along with that rain comes a not so welcome problem, mud. Unlike pigs, dogs and the occasional human child who enjoy a well-placed mud puddle, cows are likely to avoid mud. According to Michael Payne, director of the California Dairy Quality Assurance Program, muddy corrals can lead to reduced dry matter intake, lower milk production and more disease potential.
For every inch of mud present in a housing system, a farm realizes a 2.5 percent reduction in dry matter intake. This in turn has been associated with lower test day milk, slug feeding, and an elevated incidence of rumen acidosis, laminitis, displaced abomasums and mastitis. The effect on young stock may be even more pronounced. A beef stocker study at Kansas State University showed dewclaw deep mud reduced the weight gain by 7 percent. That percentage doubled if the mud was shin deep.
Payne's suggestions for avoiding a muddy winter mess begin long before the rain starts falling. He recommends grooming and scraping pens regularly. An ideal corral accounts for water diversion, sloping, drainage and loafing mounds. Before the rain starts falling, producers should ensure any terraces and trenches that are used in water diversion are in good condition. Payne describes these diversions as the most cost-effective action to reduce mud in corrals.
Additionally, Payne suggests the slope of the corral be between 3 and 6 percent for optimum drainage. The corral should be shaped to provide the quickest route for storm water to get to a drainage channel. Well-managed corrals also feature well-placed and cared for mounds. They should be orientated in the direction of the corral slope to prevent blocking drainage. Producers might also consider joining the mound to the feed apron and water trough for easy access to feed and water. Payne recommends mounds that are 5 to 8 feet high with a moderate slope to allow for comfortable resting.
For the cognizant producer, proper year-round management of open-lot corrals will spell better dry matter intake, milk production and disease management during the winter months. Now, let it rain.
---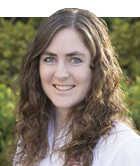 The author is the Special Publications editor. She is responsible for development and marketing of books and plans, as well as coordinating internal communication pieces. Maggie was raised on a 150-cow dairy near Valley Center, Kan. and graduated from Kansas State University with degrees in agricultural communications and animal sciences.