Managing fluctuation is an important part of today's global economy. Farms that successfully direct their opportunities during financially tight times can more readily capitalize on milk market upswings.
A recent Penn State dairy extension publication highlighted common financial constraints that hold break-even costs up on 107 dairies in the Keystone state. Over the course of the past five years, researchers found large variation in break-even costs between farms. In 2015, the break-even point for more than half of the dairies in the state was greater than $19 per hundredweight and ranged from less than $16 per hundredweight to more than $22 per hundredweight.
The researchers said the most predictable factor in describing the variation was milk production levels. Those farms that registered in the highest bracket of the data that needed more than $22 per hundredweight to break even are heavily restricted by milk production issues. Outside of that 12 percent of producers, the average inflow of dollars per cow per year among Pennsylvania dairies was $4,776.
Understandably, feed costs were a secondary but yet critical difference between operations with low break-even points and those with higher ones. The dairy team found farms that were able to raise all of their forages for the dairy as well as some of the grains often fell in the lower break-even brackets. Feed costs averages across all brackets ranged from $1,992 per cow per year to $2,596 per cow per year.
Other contributing factors identified by the Penn State dairy team that separated high and low break-even farms were dairy expenses such as custom heifer raising, owner draw, loan payments and overhead expenses such as labor.
The article suggests the best formula for reducing a farm's break-even point lies in assessing the feed and crop program, considering production bottlenecks and making the most efficient use of farm labor resources.
---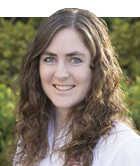 The author is an associate editor. She covers feeding, milk quality, youth activities and heads up the World Dairy Expo Supplement. Maggie was raised on a 150-cow dairy near Valley Center, Kansas, and graduated from Kansas State University with degrees in agricultural communications and animal sciences.