While no beauty pageant exists just for young ladies with IQs above 120, there is a pageant of sorts debuting in Canada next month for heifers with GLPIs over 2600 points.
At some point in our lives, we have watched or seen parts of a beauty pageant. The most impressive contestants combine an attractive appearance with an ability to speak eloquently on important matters.
The dairy industry has its version of beauty pageants – shows and expositions. It is a hobby for some, while a marketing opportunity for many. The critics of shows would argue that the "pretty cows" don't milk as much as the "working girls" in their barn. Similar to human beauty and brains, this generality might be true in a few cases, but not all.
For years dairy shows have recognized the value of production by acknowledging the top milk (or combined fat and protein) producer in each milking class to remind the naysayers that the two can coexist.
Now add the third component to type and production – genetics.
Holstein Canada is taking a bold step to highlight genomics. At its National Convention Show, which will be held in Calgary, Alberta, it will attempt to feature some of the top genomic cattle in Canada. The heifer classes will be traditionally placed, but at the conclusion of the class the two highest GLPI (genomic lifetime profit index) heifers (minimum GLPI of 2600) will be invited back for the Genomic Champion Class. The top two heifers from the seven heifer classes will then compete for cash prizes and a first-place prize of a free IVF (in vitro fertilization) collection.
Other than prizes, what are some industry-wide advantages of this new concept?
The concept encourages animals to be genomically tested, adding more data to enter the national pool.

Genomic testing also confirms parentage making animal identification more reliable. (In the U.S., 15 percent of animals are misidentified.)

Having high-genomic animals in the showring exposes these heifers' conformation to exhibitors who may not have considered using high-genomic sires in their breeding program.

It allows owners of high-genomic animals to display their breeding program. Otherwise, producers would have to come to their farm to see their cattle, where they would not typically be washed, fitted and prepared for display. Show attendees can now compare both philosophies under similar circumstances.
I will not be at the show in person, but I look forward to hearing feedback about the genomic component at Canada's National Holstein Convention Show. Will it help bridge the gap between the two breeding strategies or make it more decisive?
---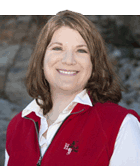 The author is the online media manager and is responsible for the website, webinars and social media. A graduate of Modesto Junior College and Fresno State, she was raised on a California dairy and frequently blogs on youth programs and consumer issues.