"Do you know what that is?"
This was the prompt that started many a conversation cowside when I was growing up. My family's veterinarian, fondly referred to as Doc, was always up for a teachable moment while diagnosing or treating a cow. At his side, I learned about reproduction, disease, and prevention. Maybe, most of all, I learned about observation.
Each time Doc visited the farm, he would walk the milking pens and go look at the calves. He would stop to check on manure consistency and listen for coughing. I learned how to observe early signs of disease in order to get ahead of illnesses.
The skill of observation goes beyond farming and veterinary service, as it's a lesson we can apply in our daily interactions as well. It's something I am indebted to Doc for teaching me.
Doc also played a role in my education. I got my first lesson in anatomy while watching him necropsy a cow. I learned about vaccination protocols when we sat down and discussed calf care with him. I attained a pretty complete understanding of the cow's digestive system by helping with corrective surgeries for left displaced abomasums (LDA).
On top of his many hours on farms, he is also a lifetime student staying up-to-date on the latest research and protocols affecting the animals and their caregivers.
I think many farmers can relate and share similar stories about the veterinarians who serve their operations. So, here is our chance to say thanks to the veterinarians who have dedicated hours of their time to the health and well-being of our animals.
World Veterinary Day is this Saturday, April 30. Give the "Docs" in your life a call for a reason other than an emergency. Call to simply say thanks.
---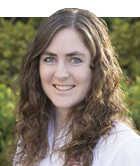 The author is an associate editor. She covers feeding and nutrition, youth activities and heads up the World Dairy Expo Supplement. Maggie was raised on a 150-cow dairy near Valley Center, Kansas, and graduated from Kansas State University with degrees in agricultural communications and animal sciences.