No doubt efficiencies and economics are top of mind for dairy producers. This is not a new situation. Dairy producers are traditionally very cognizant of balancing efficiencies to stay in business through the ups and downs.
When it comes to feeding, economic efficiency can be found in feeding of multiple rations. Victor Cabrera recently shared his research on the economic benefits of grouping a herd by nutritional needs.
The University of Wisconsin faculty member suggests most of these economic benefits originate from overfeeding of later lactation cows. On farms that feed a single ration, it is often balanced for the cow producing just above average.
Recently, Cabrera looked at grouping strategies for lactating cows by nutritional requirements. His study moved lactating cows between multiple rations monthly and recorded milk production, fat, protein, body weight, and body condition score.
They found feeding two diets as opposed to one lowered income over feed cost by $38 per cow per year. When feeding three TMRs as opposed to one, that number was $44 per cow per year.
The researchers also saw that cows stayed closer to a preferred body condition score of 3 since they were receiving a close-to-requirement diet.
"Scenarios with more diets result in more milk," Cabrera told attendees of the Tri-State Dairy Conference in April.
While these results support previous research, farms continue to use a single ration. In Wisconsin and Minnesota, more than half of farms still feed only one ration. Cabrera noted important keys to optimizing these efficiencies on farm. They are the labor and machinery resources of the operation.
"I think there is something to be gained here," Cabrera said. "Farmers should at least consider it."
---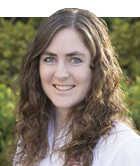 The author is an associate editor. She covers feeding and nutrition, youth activities and heads up the World Dairy Expo Supplement. Maggie was raised on a 150-cow dairy near Valley Center, Kansas, and graduated from Kansas State University with degrees in agricultural communications and animal sciences.