Every now and then that warning slips across our radar again. "Get enough sleep; it's important."
It's also easy to ignore.
Especially this time of year with so many spring and summer chores to be done.
If
I get done with this, I'll sleep.
And
I need to check that springing heifer.
But
I need to finish this field.
No ifs, ands, or buts about it. Science shows shorting yourself or your employees on sleep diminishes the ability to concentrate, increases the amount of energy expended, and reduces the quality of performance.
In a recent spring safety reminder from Cornell's
Pro-Dairy e-Alert
, Karl Czymmek referenced a study from the Occupational and Environmental Medicine journal that found individuals in the transportation industry who stayed up for 17 to 19 consecutive hours had up to 50 percent slower response speeds than those that did not. That is equivalent to working with a 0.05 percent blood alcohol level.
"Clearly, we would never let staff operate while impaired from alcohol, but many of us are unaware that sleep deprivation can have similar effects on the brain," Czymmek wrote.
Sleep specialist James Maas put it even more frankly during a presentation at the Northeast Dairy Producers Conference in March. He said, "Sleep is a necessity, not a luxury. Sleep deprivation makes you clumsy, stupid, unhealthy, and it shortens your life."
We've all been there, and we've all tried to sneak a few extra hours out of the day. But at what expense?
Don't wait for the wake-up call of damaged equipment or worse, injury or loss of life to remind everyone on the farm that getting enough sleep is as important as buckling your seatbelt.
---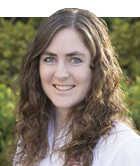 The author is an associate editor. She covers feeding and nutrition, youth activities and heads up the World Dairy Expo Supplement. Maggie was raised on a 150-cow dairy near Valley Center, Kansas, and graduated from Kansas State University with degrees in agricultural communications and animal sciences.