What's the hardest part of initiating a training program for animal welfare on today's dairies?
If you ask Luís Mendonça, who conducts many employee trainings every year, the greatest challenge is company culture.
"It starts with the top management, but if the middle managers and supervisors don't buy in, we fail," the Kansas State University dairy extension specialist explained. On farms with good leadership that build strong culture, positive attitudes, and employee morale, animal welfare can come as second nature.
"I'm a strong believer that employee training needs to be a systematic approach," Mendonça shared at the recent Dairy Cattle Welfare Symposium in Columbus, Ohio.
During his presentation, he described keys that make the three steps to training employees more fruitful.
New employee training program
One person should be responsible for training on the farm. This portion should feature high engagement, follow-up, and mentorship.


Refresher training sessions
These should be kept 30 to 40 minutes in length with a focus on only three or so subjects. Readdress topics discussed in previous sessions while expanding the employees' knowledge. Finally, these meetings should focus on stimulating healthy discussions explaining the WHY not just the HOW.


Setting goals and frequent communication
Select key performance indicators for each area. Make sure to provide feedback to employees whether in the form of oral reports and comments or charts, lists, and graphs posted in high employee traffic areas. Allow them to see how the changes they made are improving conditions on the farm.
Finally, Mendonça left the group with some notes regarding using technology to train employees. He said, "We have to be careful in this area as many employees do not particularly like computers."
In research he conducted, only 42 percent of employees had computers at home, and when queried about using them, 50 percent said they don't find them easy to use. Meanwhile, 70 percent said they preferred face-to-face training.
---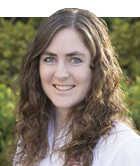 The author is an associate editor. She covers feeding and nutrition, youth activities and heads up the World Dairy Expo Supplement. Maggie was raised on a 150-cow dairy near Valley Center, Kansas, and graduated from Kansas State University with degrees in agricultural communications and animal sciences.