Weaning is definitely not a one-size-fits-all activity. In fact, there are almost as many weaning strategies out there as there are dairy farms, and many of them are quite successful.
Weaning doesn't just vary from farm to farm. A recent study at the University of British Columbia showed a great amount of variation also exists from calf to calf. The study specifically compared early and late weaning strategies to weaning based on starter intake measuring body weights, intake, and hunger behaviors.
The researchers found calves that were allowed to wean themselves based on starter intake did so as early as 8 weeks or as late as 13 weeks of age. This is a huge variation to consider when feeding calves by group. In feeding programs where all animals are weaned at once, some may be weaned before they are ready to make the transition while others may be overfed milk when they are capable of consuming more starter.
When comparing early and late weaning strategies to the self-weaning by starter intake, the study found early-weaned (48 days) calves were most likely to struggle during the weaning process as some calves plateaued or lost weight through weaning. The early-weaned group was also more likely to engage in non-nutritive suckling during and following the weaning period than the other two groups of calves.
Both the late-weaned group (89 days) and the group weaned by starter intake had more consistent average daily gains than early-weaned calves from 3 weeks of age through 13 weeks. The group that was weaned by starter intake went off milk on average 13 to 14 days sooner than the late weaned group. All calves received 12 liters of milk per day leading up to the weaning period.
Researchers are still unable to explain why the timing of weaning varies so much from calf to calf, but it is a great reminder that individual attention to each animal can make all the difference in getting calves off to a good start.
---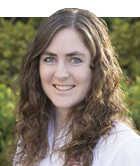 The author is an associate editor. She covers feeding and nutrition, youth activities and heads up the World Dairy Expo Supplement. Maggie was raised on a 150-cow dairy near Valley Center, Kansas, and graduated from Kansas State University with degrees in agricultural communications and animal sciences.