"In celebration of World Dairy Expo's golden anniversary, we would like to share with you a new Expo icon."
That was the introduction of the newest feature to the Alliant Energy Center grounds as described by World Dairy Expo Board of Directors President Al Deming. He was speaking of the Dakota mahogany granite cow that now stands at the northeast corner of the New Holland Pavilions.
Fittingly, the cow stands across the street from the iconic Expo globe that was installed 50 years ago to kick off the World Food Expo and that now stands as a sign of all the show has accomplished
The cow, appropriately named Madison, was carved over the course of five weeks by a robot that worked around the clock to shave the stone down to its current size – an impressive 6,900 pounds.
Madison was unveiled during the Opening Ceremony of the 50th World Dairy Expo held on Tuesday morning. The event featured speakers from key organizations that have helped make Madison, Wis., the center of the dairy universe in October.
"To the international community, they haven't seen anything until they come to Madison, Wis. and see World Dairy Expo," shared Ben Brancel, Wisconsin Secretary of Agriculture, Trade, and Consumer Protection. He described Tuesday as a great day in marking the beginning of the 50th year of Expo.
Other speakers included World Dairy Expo General Manager Scott Bentley and Deming who spoke on behalf of the Expo staff and the board of directors, describing how far the show has come. Dane County Executive Joe Parisi also spoke at the event explaining how important the partnerships have been over the years to bring Expo to Madison and to keep it there.
---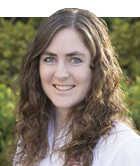 The author is an associate editor. She covers feeding and nutrition, youth activities and heads up the World Dairy Expo Supplement. Maggie was raised on a 150-cow dairy near Valley Center, Kansas, and graduated from Kansas State University with degrees in agricultural communications and animal sciences.