Dale and Deanna Bendig of Gettysburg, Pennsylvania, won the 26th Klussendorf-MacKenzie Award presented during the 50th World Dairy Expo, in memory of Duncan MacKenzie, the 1961 Klussendorf winner.
For the first time since 2001, the Klussendorf and MacKenzie Association honored a pair of winners because this cow-loving team is simply inseparable. Dale grew up working with Guernseys on his family's farm while Deanna grew up working with Holsteins on her family's dairy. In 1992, the couple married and established their 79-acre Spungold dairy farm with 65 milk cows and 65 replacements near Gettysburg, Pennsylvania.

Since founding that farm, the couple has specialized in quality cattle care ever since for some of the leading promoters of all breeds including Ernie Kueffner, Greg Wilcom, Peter Vail, The Rucks Family, Morey Miller, and Mike Hellenbrand. Simply said, the every day care, preparation skills, and leading ability are impressive.
The Bendigs have bred and developed numerous Excellent cows, including Spungold Tahoe-Red . . . a homebred cow that was the 2002 Red and White Grand Champion at World Dairy Expo and overall Futurity Winner that same year. In addition, they have been very successful in showing and promoting cattle for others. The most famous of which is Old Mill E Snickerdoodle who claimed six Grand Championships at World Dairy Expo during an eight-year span . . . no other cow in World Dairy Expo history has been able to claim such an accomplishment as chronicled in the World Dairy Expo 50th Anniversary Book We Need a Show. On each of these six occasions one person — Deanna Bendig — was on the halter with Snickerdoodle leading her to Supreme Champion honors in 2003.
Above all, this couple gives back to others. Dale actively serves on the World Dairy Expo Dairy Cattle Exhibitor Committee and he also won World Dairy Expo's A.C. "Whitie" Thomson Memorial Award in 2014. Both Dale and Deanna greet fellow exhibitors and showmen with a smile and a helping hand. And perhaps most importantly, Dale and Deanna readily help junior exhibitors as well.
Recognized as the meeting place for the global dairy industry, World Dairy Expo attracts more than 70,000 attendees from over 90 countries to Madison, Wis. each year. The annual event will take place October 4–8, 2016, with the theme of "Celebrate 50!" to commemorate its golden anniversary.
---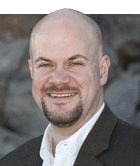 Corey Geiger
The author is the managing editor, and he brings 19 years of industry leadership to our readers overseeing all editorial content and production of the magazine. His degree from the University of Wisconsin-Madison combined dairy science and agricultural economics.