We asked World Dairy Expo exhibitors what their favorite memory from World Dairy Expo has been. We spoke to Heather Thyen from Grove City, Minn. She farms with her husband, Russ, and daughter, Elizabeth.
Rick Pagel of Rochester, Minn., who worked with the Elginvue string when bulls were part of the show string shares his stories.
Tracy Mitchell has led cattle for others on the colored shavings. She resides in Ellsworth, Wis., and is assisting the Woodmohr herd this week.
Idle Gold's Laura Jensen of Comstock, Wis., shared her favorite memory. She has been an Expo exhibitor for nine years, but her special memory was not from the halter.
Paul Petriffer of Italy helps the Rosedale string each year. He shared his favorite memory with us.
What's your favorite Expo memory?
---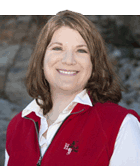 The author is the online media manager and is responsible for the website, webinars and social media. A graduate of Modesto Junior College and Fresno State, she was raised on a California dairy and frequently blogs on youth programs and consumer issues.