After being tapped as Reserve Supreme Champion in 2015, Musquie Iotola Martha-ET captured the title of Supreme Champion of World Dairy Expo 2016. This Jersey is owned by Shelby Ostrom and was led by Annette Ostrom of MilkSource Genetics.
Reserve Supreme Champion
Reserve honors went to a homebred crowd favorite, Sheeknoll Durham Arrow. Led by Minnesota's Jeannette Sheehan, the mature Holstein cow had just been named Grand Champion of the Holstein Show about an hour before the supreme selection.
World Dairy Expo's 50th Anniversary drive was that of bred and owned. Only the Supreme Champion was not owned by the herd that bred and developed it.
The Milking Shorthorn Grand Champion was a repeat winner from last year. Cates Ruben Tulsa-Time-EXP was bred and exhibited by Peter Cates of New Hampshire.
Flambeau Manor Ro Lauren-ET, the champion Guernsey was also a repeat Grand Champion from 2014. She was exhibited by Gary Van Doorn of Wisconsin.
The World Ayrshire Conference concluded its U.S. tour at World Dairy Expo and saw the aged cow from Quebec, Margot Patagonia, win the Grand Champion title.
Meanwhile, Maryland's Staumbaugh family exhibited the winning Red & White, Pheasant Echos Turvy-Red.
The Grand Champion Brown Swiss was Brown Heaven Glenn Fantasy. This aged cow is owned by Ferme Brown of Quebec.
---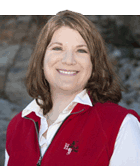 Patti Hurtgen
The author is the online media manager and is responsible for the website, webinars and social media. A graduate of Modesto Junior College and Fresno State, she was raised on a California dairy and frequently blogs on youth programs and consumer issues.