Miss Apple Snapple-Red-ET was chosen as the 2016 World Dairy Expo International Futurity Champion. Snapple is a Red & White and is owned by MilkSource Genetics of Wisconsin. The selection of each breed's futurity winner is held during the respective breed shows. On the final day of the show, all of the breed futurity winners gather on the colored shavings for the selection of the overall futurity winner.
Reserve Champion Futurity honors went to Royalty Ridge Tequila Circus-ET. This Jersey is owned by River Valley Farm, Ben, Andy, Blessing and Grace Sauder of Illinois.
The other five breed Futurity winners from earlier in the week include:
Ayrshire
Hi Ayr View Prime Marroon 5-ET
Exhibited by: Brian & Kristi Dinderman, Ill
Brown Swiss
Voelkers Durango Sasha
Exhibited by: Ken Main & Peter Vail, N.Y.
Guernsey
Knapps Best Buy Tamarinda
Exhibited by: Austin & Landen Knapp, Iowa
Holstein
RJR Sid 3273-ET
Exhibited by: Connor K Erbsen, Ill.
Milking Shorthorn
Corstar Deuce Mix P-EXP-TW
Exhibited by: Cory & Kristen Salzl, Minn.
---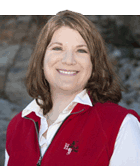 Patti Hurtgen
The author is the online media manager and is responsible for the website, webinars, and social media. A graduate of Modesto Junior College and Fresno State, she was raised on a California dairy and frequently blogs on youth programs and consumer issues.