As an out-of-state college student, I rarely have the opportunity to travel home. Growing up with a tight-knit family, I spent most of my days working alongside my parents and younger sisters on the farm. However, once I made the decision to attend a four-year university located nearly 300 miles from home, it became more and more difficult to travel back to our family farm as the school year progressed.
Being a full-time college student, working a part-time job, and staying involved in various extra-curricular activities left little time for me to make the five-hour drive home to visit on the weekends. As badly as I wanted to work alongside my parents, sisters, and cattle once again, I knew that there would be few visits home within the next few years during my college career.
Many college students in the dairy industry share my dilemma. There is one way, however, some of us are able to visit with our families.
Cattle shows have the ability to serve as "family reunions." Though I am unable to travel home on the weekends, I do have the opportunity to connect with my family a few times each semester. Since I grew up with a love of showing cattle, I made the decision to miss a few days of school to attend cattle shows and visit with family members during college.
Whether traveling by plane, car, or catching a ride with a family friend, I have been able to stay in touch and work with my cattle by exhibiting at shows across the nation. These shows offer the ability to reconnect with family members, usually for a week, before returning to school. Though this is not the most ideal way to stay in touch, I have enjoyed the precious memories made traveling hundreds of miles for our "family reunions."
During the shows, I find myself once again working alongside my sisters during early morning chores and late nights spent on the wash rack. Though we are usually exhausted by the end of the week, we still find time to laugh and smile at the end of each day.
While our time together is brief, I am grateful that showing cattle has given me the opportunity to stay in touch with my family members throughout college. At the end of each show, after the cattle have been loaded and the suitcases have been packed, I give my goodbyes and say "Love you! I'll see you at the next show!"
---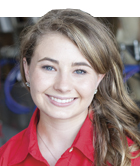 Taylor Leach grew up on her family's dairy farm in Linwood, Kansas. Leach graduated with an associate's degree from Kansas City Kansas Community College and now attends Oklahoma State University, majoring in animal science and agriculture communications. On campus, she is a member of the dairy club and also works on the university's dairy farm. Leach was the 2016 Hoard's Dairyman summer editorial intern.