Each day, many of us scroll through pictures and posts on various social media platforms. For some of us, it is also how we get our news. Many producers have turned to social media to showcase their operation and communicate with the general public. However, with so many people using social media as a promotional tool, it can be difficult to make creative and original content.
While scrolling through Facebook one day, I stumbled across a post from the Midwest Dairy Association. The post shared a Snapchat story they created while touring a large dairy. For those unfamiliar with Snapchat, the social media platform allows users to take pictures and short videos to share with others. The stories are only able to be viewed for 24 hours, with each picture or video lasting up to 10 seconds.
The story highlighted a sixth-generation farmer, cows lounging in sand-bedded freestall barns, a flush system cleaning away manure, veterinarian and nutritionist care, along with newborn calves enjoying their milk. The story lasted a mere 33 seconds but kept the audience's interest. This app also allows one to add text and different effects to pictures and videos, creating fun and engaging content.
After watching this new take on promotional content, I wondered if we would soon be seeing farmers taking to Snapchat to highlight their operation. With more than 158 million users, and nearly 2.5 billion Snaps sent each day, the tool has an audience 18 times the size of New York City.
By taking advantage of this social media platform, producers may also be able to connect with consumers on a more interactive level. Highlighting events such as milking or feeding calves, which occur each day, along with showcasing the care given to animals may allow consumers a better glimpse into the industry.
With many of us already using Snapchat as a form of social media, will you be Snapchatting with consumers in the future?
---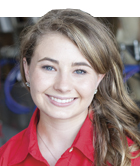 Taylor Leach grew up on her family's dairy farm in Linwood, Kansas. Leach graduated with an associate's degree from Kansas City Kansas Community College and now attends Oklahoma State University, majoring in animal science and agriculture communications. On campus, she is a member of the dairy club and also works on the university's dairy farm. Leach was the 2016 Hoard's Dairyman summer editorial intern.