We get pretty excited around this time of year. We live in a very small town and do some different things for the community.
Since our town is so small, we only have one city employee that maintains the landscapes in our nearby town of Dearing, Ga. So when there are jobs to do like putting Christmas lights up on the powerlines in town, Hillcrest Farms takes on the task. We disperse hay bales to different businesses in the community around Halloween and they all decorate them for the upcoming holidays. When Halloween is over they change the hay bale decorations to Thanksgiving and then again for Christmas.
At the farm we try to do a good bit of decorating, including hay bales, stringing lights around the freestall barn, and decorating tractors. Often we have people from the community stop and take pictures with the decorations at the farm.
Aside from the decorations, we try to take good care of our employees around this time of year. Everyone knows that a dairy farm runs 365 days a year. This means people will have to work on Christmas Day unlike most businesses. We try to work with bare minimum help during this special time of year. That means we try to get most stuff done early in the week so that there is only the daily tasks to do. We try to make sure everyone of our employees gets quality time with their families.
Christmas time is very important to us.
It is one of our favorite holidays of the year. Having Christ be a part of our family and farm makes for a perfect Christmas at Hillcrest!
---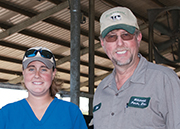 Mark and Caitlin Rodgers are dairy farmers in Dearing, Georgia. Their "Father and Daughter Dairy Together" column appears every other Thursday on HD Notebook. The Rodgers have a 400-cow dairy that averages 32,000 pounds of milk. Follow their family farm on Facebook at Hillcrest Farms Inc.