When I called central Pennsylvania, dairyman Sam Kauffman requesting a tour, his response was the same as many dairy producers. "I guess you can come, but there's not much to see."
There's always something to see, and Kauffman's dairy was no different.
Set in the countryside of central Pennsylvania the Kauffman family keep a small organic dairy milking around 50 head that average 22,000 pounds of milk a year on 2x milking per day.
Kauffman's philosophy is simple. "I ask myself what's practical," he explained. "Keeping cows healthy is."
And that's their major focus as the dairy follows organic standards and therefore focuses intensely on preventative care for the animals. They follow a strict vaccination program and take great care to keep the barn and pastures clean and well cared for.
The cows are housed in a tunnel-ventilated tie stall barn when they are not on pasture. It is bedded daily with gypsum and wood shavings.
The other thing Kauffman finds practical is milk production. He feeds his cows a supplemental mixed ration to accompany his herd's pasture grazing profile. "We found it was really important to supplement feed to improve milk production and the bottom line," he shared.
The Kauffman family engaged in organic dairy production because it made sense to their type of farming. At the end of the day, Kauffman was quick to point out that there aren't so many differences between us all.
"Not everyone thinks this way, but you can use conventional wisdom on an organic dairy and the other way around," Kauffman shared.
We agree.
---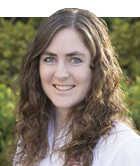 The author is an associate editor. She covers feeding and nutrition, youth activities and heads up the World Dairy Expo Supplement. Maggie was raised on a 150-cow dairy near Valley Center, Kansas, and graduated from Kansas State University with degrees in agricultural communications and animal sciences.