The Golden State is known worldwide as a top producer of hundreds of crops and commodities. Due to the rich, abundant soil and ideal, long growing season, California farmers and ranchers have benefited from using irrigation water to grow some of the nation's best agricultural products. However, a law may be passed this coming summer that would allocate 40 percent of the water from the Stanislaus, Merced, and Tuolumne Rivers in the Central Valley to be directed toward the Pacific Ocean — for the use of saving a small salmon population.
Worth Your Fight is a campaign organized by the Turlock and Modesto Irrigation Districts that advocates against the current water proposal. Supported by local farmers, ranchers, and many legislative leaders, the Worth Your Fight campaign has raised awareness of the detrimental consequences of the proposal to the economy. Multiple public hearings were held throughout the region for people to voice their opinion. The hearing in Modesto gathered almost 1,000 attendees to listen and testify before the California State Water Resources Control Board (SWRCB).
Edwin Genasci, California dairy farmer, said that the lowest valued crops will be the first to not receive water. Crops that are worth more, like almonds and walnuts, will have precedence over forages and corn. This will lead to increased feed costs from having to purchase necessary feedstuffs from out of state.
California Farm Bureau President Paul Wenger described how the proposal would distress the dairy industry in California. He said, "Dairying in the Central Valley is a significant component of the agricultural base and would undoubtedly suffer from a reduction in water stored behind reservoirs designed to provide flood protection but more importantly provide water certainty during times of drought."
Government officials are threatening not only farmers' livelihoods but the economy of thousands nationwide by taking essential irrigation water away. To learn more about the Worth Your Fight campaign and for more information about the SWRCB's proposal, go to Worth Your Fight.
---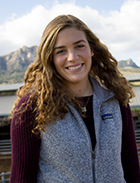 Elise Regusci grew up on her family's farm in Modesto, Calif. Regusci attends Cal Poly University, majoring in dairy science with an agricultural communications minor. On campus, she is the Los Lecheros Dairy Club Ag Council representative and a member of the Cal Poly dairy judging team. Regusci is the current Brown Swiss Youth Ambassador and will be the 2017 Hoard's Dairyman summer editorial intern.