I was eating breakfast when the newscast I was watching announced our former Georgia governor would be named U.S. Secretary of Agriculture later that day. It was then reported that several news media outlets were implying he was unfit for that role because he had joined our Georgia Commissioner of Agriculture in a prayer for rain at our state capitol in Atlanta during a drought.
I headed to my freestall barn a few minutes later. I was still bothered by that newscast and decided that I needed to speak up. On my farm's Facebook page I usually promote dairy farming and avoid politics, but today was different. And really, it still was not about politics but instead about the faith of a farmer.
I turned the camera from the cows and back toward me. I spoke of how I wanted a Secretary of Agriculture that had farmed, that prayed for rain during a drought, and someone who prayed for dry weather in which to harvest.
I posted the video on our Facebook page and then went to check on the cows. A few hours later I logged back in and noticed that this video had struck a chord with farmers and nonfarmers alike. It was getting shared repeatedly and commented about more than any other video I had ever posted. It had nothing but positive comments, and I tried to read and reply to most all of them.
Sometimes it is hard to step out from behind the camera, but as a farmer we need to tell our story from our perspective. Dairy farming is about a lot more than milking cows.
If you would like to see the video, this is a link to our farm's Facebook page.
---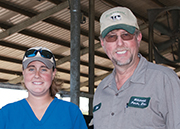 Mark and Caitlin Rodgers are dairy farmers in Dearing, Georgia. Their "Father and Daughter Dairy Together" column appears every other Thursday on HD Notebook. The Rodgers have a 400-cow dairy that averages 32,000 pounds of milk. Follow their family farm on Facebook at Hillcrest Farms Inc.