Every sale I attend is unique. Some include Jerseys, some may be selling Holsteins, some sales have music, and sometimes there are carnival rides. Yes, carnival rides were a part of the festivities this past weekend at the California State Holstein Sale held at the Maddox Dairy in Riverdale, Calif.
The fun-filled host night and sale of the state convention created many smiles from dairy cattle enthusiasts both young and old. Sales are not just a place for buying cattle, but they bring the dairy industry family together in several ways.
Fellowship with others
Cattle sales have a social atmosphere. They radiate with conversation when I walk into the sale tent. Whenever I am at a cattle sale, I make sure to catch up with friends, dairy farmers, and employers. You never know who you may meet, and there is the potential for friendship, business advice, or a future job/internship opportunities.
New involvement in showing and dairy farming
Probably my favorite part of attending sales is watching a young girl or boy bid on their first show calf. I think of all the memories they are going to experience just from that one animal! Purchasing a calf opens the door for thousands of opportunities to grow, achieve, and succeed as an individual.
The next time you attend a sale remind yourself of all the excitement involved not only with the beautiful animals traveling to new homes and owners, but the camaraderie our industry has.
---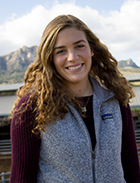 Elise Regusci grew up on her family's farm in Modesto, Calif. Regusci attends Cal Poly University, majoring in dairy science with an agricultural communication minor. On campus, she is the Los Lecheros Dairy Club Ag Council representative and a member of the Cal Poly dairy judging team. Regusci is the current Brown Swiss Youth Ambassador and will be the 2017 Hoard's Dairyman summer editorial intern.