As a young person, people ask what you want to be when you grow up. I remember in the fourth grade that fellow students asked me that very question. And before I could even answer, they would reply for me, "A veterinarian."
And, I would reply, "No."
I was a good student, liked to learn, loved animals, but even at a young age, I knew I didn't want to deal with illness and death. I didn't have a particular job in mind, but I knew it would involve the dairy industry.
In eighth grade, we took those career tests . . .
Do you like indoors or outside? Working in groups or alone? Are you a detail person or a big picture thinker?
I did not put much merit in the test. It had accountant and flight attendant ranked the highest.
I did like math and minored in agricultural business in college. I do my own taxes, but never envisioned myself as an accountant.
A flight attendant, now that had the benefit of travel. At four months of age, I took my first flight — to a cow show, the Royal Winter Fair, no less. Because of my dairy activities as a youth and later as a professional, this industry has provided many opportunities to explore new places, and I have traveled to 46 U.S. states, four Canadian provinces, and another continent — most to see dairy cows.
So, when I saw a recent online survey to determine what ag career would fit me best, I decided to take it.
How close would it be to careers I have had?
I was quite shocked!
"You're the hands-on type! Future career choices include veterinarian, animal geneticist, livestock sales, ranch manager, embryo transfer tech, USDA inspector."
The veterinarian option matched my grammar school classmates' prediction. I worked in the genetic field when I promoted dairy genetics for two artificial insemination companies. Embryo transfer technician was spot on because I had that exact job when I was an in vitro fertilization (IVF) and embryo transfer (ET) technician as my first job out of college.
While not for an extended period of time, I spent time working on my parent's dairy where I handled the promotion of cattle and semen sales, so that hit the mark, too.
The only career mentioned that I had not thought of was USDA inspector. However, I have spent time in security where I inspected packages as guests entered sporting events, checking purses and handbags for weapons, bottles, and other prohibited items. So, while not in ag, I do have some inspector-like tendencies.
I feel the survey results were surprisingly accurate. The results were determined by asking about what would I eat for lunch, the shoes I wear most, my secret dream pet, a vacation destination, and what music I listen to. I wavered on several questions. I settled on what my natural tendencies were, and the results speak for themselves.
I did retake the test with what my second-choice would have been, and the result . . . ag communications as a marketing manager, editor, and graphic designer — my most recent jobs. Then, I chose the options that were the opposite of my preferences, and it was on target again. I would not enjoy a career in agronomy.
In hindsight, those early career tests did match my interests, even if not a full-time job. However, of the careers that I have had as an adult, two were not even created when I was a child.
So, if you are an adult working in agriculture, take the nine-question survey to see how your career matches the survey's prediction.
If you are a young person still unsure of your future path, maybe a fun quiz might give you a new direction to consider. Knowing what you like can help you sculpt a career that fits many of your interests.
---
The next webinar is Monday, February 13, 2017, at noon CST
"FARM in 2017"
by Emily Yeiser Stepp, Director, FARM Animal Care; Ryan Bennett, Senior Director, Industry & Environmental Affairs; and Jamie Jonker, Vice President, Sustainability & Scientific Affairs.
All three are with the National Milk Producers Federation
Farmers Assuring Responsible Management (FARM) is dairy's comprehensive quality assurance program encompassing over 98 percent of America's milk supply. Join FARM's Emily Yeiser Stepp, Ryan Bennett, and Jamie Jonker as they give an overview on animal care, antibiotic, and environmental stewardship.
Register here for all webinars.
---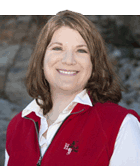 The author is the online media manager and is responsible for the website, webinars, and social media. A graduate of Modesto Junior College and Fresno State, she was raised on a California dairy and frequently blogs on youth programs and consumer issues.