The National Dairy FARM Program is a voluntary program that promotes transparency in the food supply. It began in 2009 and has gained support from producers, milk cooperatives, and food companies. Forty-nine states and more than 98 percent of the U.S. milk supply is covered by the FARM Program.
Three team members from the National Milk Producers Federation presented the February webinar. Emily Yeiser Stepp, Jamie Jonker, and Ryan Bennett discussed the three silos to the FARM Program. They include animal care, antibiotic stewardship, and environmental stewardship.
While producers can talk about their good management practices, consumers and companies that sell to them want "proof points" to back up the claims that production agriculture makes.
A valid Veterinary Client Patient Relationship (VCPR) is a key feature. This is an important component and a very basic one. Your veterinarian needs to have an understanding of your operation and be in communication with you when issues arise. While most farms have a sound relationship with a veterinarian, putting it in writing is important in verifying the connection.
Quality of animal care is enhanced when there are standard operating procedures and employees understand the recommended procedures. These areas include caring for calves, pain management, non-ambulatory handling, and euthanasia.
The FARM Program includes a ban on tail docking that went into effect on January 1, 2017. Research does not support a benefit to tail docking. There was no improvement in milk quality, cow cleanliness, or worker safety.
The FARM representatives who conduct the on-farm evaluations look at incidence of lameness, body condition, and cow cleanliness. They discuss their finding with the producer.
When the industry comes together to support a program like FARM, it gives food marketers confidence, as well. This includes McDonald's, Walmart, Costco, and Taco Bell to name a few. Rather than each company trying to set up its own guidelines, they have chosen to accept FARM as an endorsement of proper animal care practices. This helps producers by enabling them to meet one widely accepted set of standards.
The FARM Program staff is currently working on developing a residue manual, an antibiotic pocket guide, and a mobile app.
FARM also promotes environmental stewardship. The carbon footprint that the dairy industry contributes has steadily declined, dropping 63 percent since 1944.
The environmental stewardship assessments are very comprehensive and take into consideration cow numbers, milk production and components, heifer and calf inventories, energy costs, and fuel bills. The end result is a number that represents the carbon footprint per pound of fat- and protein-corrected milk produced.
The three phases help producers be aware of their role in food production through animal care, judicious drug use, and stewardship. This, in turn, gives food buyers the confidence that producers are doing an excellent job of producing a product that has been held to the highest animal care and environmental standards.
To learn more about the FARM Program, visit www.nationaldairyfarm.com.
The webinar archive is found by clicking the link.
---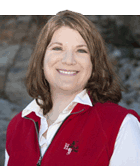 Patti Hurtgen
The author is the online media manager and is responsible for the website, webinars, and social media. A graduate of Modesto Junior College and Fresno State, she was raised on a California dairy and frequently blogs on youth programs and consumer issues.