Ah, that new car feel . . . It's different, better, and exciting . . . all at the same time.
As I watched our March webinar, "Making use of all that parlor data," I instantly made the connection to driving a more modern vehicle. It has all sorts of bells and whistles, automated features, and the promise of greater safety and efficiency.
Long gone are the days of having only monthly milk testing to determine how your cows are milking. Technology now tells you so much more. If you think the cow alone determines how much she puts in the tank, this webinar will open your eyes.
A dairy's production depends on the cow, the employees, and the equipment. When parlor data is generated on each and every cow, for each milking, and for each stall, it is easy to pinpoint places to improve and where to recognize good work.
Dr. David Reid, a veterinarian, reviewed several parlor reports he analyzes for clients' dairies. Dairy Comp305's outputs are extensive, but being able to understand them makes it possible to improve parlor efficiency, as well as milk production and udder health.
Most new cars are loaded with technology that display all kinds of information. You might say, "That's cool, but what do I really need to know." Similarly, while watching the webinar, I wondered how many people are fully aware of all the information today's parlors provide and how to sort through it to determine what's important.
Look at milk weights per cow per side of a herringbone or parallel for each turn. Sometimes you will see "0 pounds" for each cow on that side. That usually means that a side of cows entered, yet were released (in error) before the machines were attached.
Are there cows in the wrong milking string? Dairy Comp305 color-codes pens so when a cow is in the wrong group, it's obvious she is out of place.
Look at individual stall data to see if one unit has consistently poor performance. That will alert you that the equipment at that stall should be checked for wear and functionality.
After reviewing the various reports, it's usually easy to spot issues. That gives you tools to use when you talk to the milking team to see how and why the problem occurred, and how it can be addressed.
The reports also help monitor rotary parlors. If there is a high percentage of manual machine removals (didn't detach automatically), that could indicate poor udder stimulation, delayed machine attachment, or the floor deck is set to run too fast.
Other trends can be analyzed, too. Milk flow data can be an indication of how the cows are brought to the parlor. Is the cow pusher calm? Are the cows comfortable or agitated as they enter the parlor?
Dr. Reid recommends posting each day's reports for the milking team to view. Over time, the team is aware of the expectations, in a documented format. He also suggests weekly meetings to review the reports with the milking crew. "They can be brief. Ten minutes is all you need," he shared.
There were more examples he shared. Learn about them in the archived presentation.
---
Join us next month
Join us for the webinar "A breath of fresh air – ventilating barns" on Monday, April 10, at noon (Central time).
Nigel Cook, D.V.M., University of Wisconsin-Madison, will cover basic design concepts required for effective natural ventilation and examine the reasons producers struggle to keep cows cool in summer. He will discuss ventilation systems in seven different U.S. regions.
Register here
.
---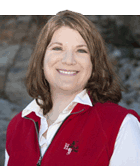 Patti Hurtgen
The author is the online media manager and is responsible for the website, webinars, and social media. A graduate of Modesto Junior College and Fresno State, she was raised on a California dairy and frequently blogs on youth programs and consumer issues.