The snow has melted, the rains have subsided in some areas, and the temperatures are more tolerable. And that means it's spring-cleaning time. Most think of removing items from the home – clothes, paperwork, and extra clutter that simply "appeared" in our midst.
But what about the view of your farm from the outside as travelers pass by? Are you portraying a positive image of dairy farming?
We all know winter brings rain and snow, and that combined with dirt roads means mud. There is little we can do about weather's impact.
But we can control other factors.
As a community club project this week, I was part of a roadside cleanup crew. About a dozen people, with trash bags and collection sticks, blanketed the four on- and off-ramps in our town. I drive by that area fairly frequently and never thought of it as an eyesore.
As I strolled under the freeway, I found a few items, beer bottles, soda cans, and fast-food wrappers here and there. More interesting items included a car mat, grill from a vehicle, and pieces of a rubber tire. In just an hour I had collected almost two large garbage bags of trash – a lot more than I though was present in the small area I covered. Our group ended the evening with a lot of trash-filled bags.
Do you have areas around your farm that might need some attention but might not be screaming "barn makeover"?
This could include areas that need some tidying up, trash pickup, or weed pulling. And it may not seem that there is a lot to pick up, but once you dig in, there might be more than you realize.
It does not matter who left the old oil filter box in the weeds when they serviced the tractor, or who did not throw away the old hose with two smashed ends and holes throughout, lying in the yard. It needs to be discarded – not just so the farmstead is more attractive, but they could damage any equipment, like a lawn mower, if they are hidden.
A positive image for one farm reflects on us all – just as much as a poorly maintained one. Consumers judge us as a group. While not every facility lends itself to be featured on the cover of a magazine, we should all be proud of the businesses that we own and work on. Share that pride with some spring-cleaning.
---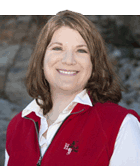 The author is the online media manager and is responsible for the website, webinars, and social media. A graduate of Modesto Junior College and Fresno State, she was raised on a California dairy and frequently blogs on youth programs and consumer issues.