Joey Schilter is the youngest of three children raised on a dairy farm in the state of Washington. His older siblings are "passionate about winning" and have done well in many activities, shared their mom, Michelle Schilter of Sun-Ton Farms in Chehalis.
But, things are a bit different with Joey. The twelve year-old has autism. "He was not diagnosed right away as a child, but we knew something about Joey was different. Searching for answers, we finally received a diagnosis of autism when he was 3 years old," remembers Michelle.
"We are a family that is very involved in dairy youth programs like 4-H and FFA. We expect our children to be part of all the family activities. We also try to find activities to build Joey's confidence," she said.
The herd is mostly Holsteins, primarily Red & Whites to be more specific, except for two Brown Swiss and a few Jerseys. One of the Jerseys was purchased two years ago as a heifer for the smaller-framed Joey. When she freshened last year, Joey did not think he wanted to care for a milk cow at the fair, so she stayed home.
This year, however, he wanted to take Alaska to the Evergreen Junior Dairy Show. Unlike previous years where Joey was in the middle of the class, this year he was at the top – the very top! Alaska was named Grand Champion Jersey. He was very excited as you can see in the video below.

"I can't believe it!" and "I am so happy!" were repeated by Joey as the events of the day sunk in.
"His smile from ear to ear is worth $1 million," said Michelle. His mother admitted she was so glad she recorded the special moment on camera, because it brightens her day each and every time she watches it. "It makes the dark days easier knowing there are successes like this."
Several people have reached out to Michelle since the video hit Facebook this week, sharing stories of young children that they know who have autism and how heart-warming the video was. They hope to inspire others to embrace the opportunity to help a young person with autism grow and develop their own special skills.
Even this author was a bit choked up when I saw the pure joy on his face as I watched the video. The innocence of that moment was priceless. The last few moments of the video were the real kicker.
The Evergreen Junior Dairy Show is a family tradition, as Joey's dad, Lonnie, exhibited at the event in his youth. Exhibitors from Western Washington and a few from the eastern side of the state participate.
Joey makes friends wherever he goes. "Everyone knows Joey" in the barns at the show, his family says. And, now everyone else can say that they have at least heard of this very special young man, too.
---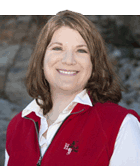 The author is the online media manager and is responsible for the website, webinars, and social media. A graduate of Modesto Junior College and Fresno State, she was raised on a California dairy and frequently blogs on youth programs and consumer issues.