If you told me when I was 9 years old that one day I would willingly get up in front of a crowd of hundreds, I would be shaking my head no. I would force myself to get up in front of my local 4-H club to give my monthly report. Over the years (with lots of speaking occasions), I became accustomed to public speaking and my fear slowly dissipated.
Without 4-H, FFA, and breed associations, I would still be way too shy to confidently communicate my messages to audiences. Although I still get nervous about public speaking, I have most definitely grown in confidence through my steady involvement within various agricultural youth organizations.
This past year I served as the National Brown Swiss Youth Ambassador for the Brown Swiss Cattle Breeders' Association (BSCBA). I had the opportunity to represent the Brown Swiss breed all year, including at national shows in Wisconsin and Kentucky. I also wrote articles in the Brown Swiss Bulletin, assisted in managing the youth Facebook page, and participated on the youth committee. Overall, throughout my youth career in the BSCBA, I attended conventions in Minnesota, Ohio, Wisconsin, Illinois, and Pennsylvania. This alone shows what travel and participation in these organizations will lead to — new places and lifelong friendships.
In the end, we won't remember every conversation exchanged or event attended in the activities these organizations provided, but we will notice how we grew throughout the years. I noticed that I grew in decision-making, confidence, networking skills, and determination. Promoting the industry I love is natural, and I find myself advocating for dairy farmers more and more in my everyday life.
A simple step back to look at how agricultural organizations shaped us will lead to a greater appreciation for our own involvement and for our mentors along the way. How did your participation in FFA, 4-H, breed associations, or other groups benefit your career and life?
---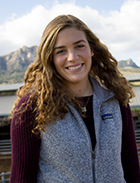 Elise Regusci grew up on her family's farm in Modesto, Calif. Regusci attends Cal Poly University, majoring in dairy science with an agricultural communication minor. On campus, she is the Los Lecheros Dairy Club Ag Council representative and a member of the Cal Poly dairy judging team. Regusci is the current Brown Swiss Youth Ambassador and is the 2017 Hoard's Dairyman summer editorial intern.