Music is a big part of my life. It can make or break a day for me. I listen to music every single day, and not just as background noise.
Though the radio in the parlor is always set to the local country station, my tastes are varied. My 'Top 25 iTunes Playlist' would confound the most eclectic of music lovers. It boasts names like Billy Joel, Aerosmith, Cristina Aguilera, George Strait, Adele, and multiple Disney songs (I'm looking at you Moana and Beauty and the Beast!). And, I'm not even a little bit ashamed.
The last few weeks on the farm have been particularly rough so when the song 'A Million Reasons' by Lady Gaga came up on my playlist this week, I hit the repeat button. It literally spoke to my soul.
Let's be real, this job blows. At any given moment, I could give you 2 million reasons as to why I should walk away. For starters, I need more sleep, and I don't make enough money. There's sooooooo many hours, and leaving would mean I could regain a social life. Perhaps, I'd actually be able to attend family functions. Maybe I could live one day without something breaking, and certainly random internet strangers would hate me less. Having a job that didn't so heavily depend on the weather would also be nice, and if I left, I'd probably very rarely wake up sore from riding a tractor all day. Who knows, I could even start going to a gym, and I'm 99% sure I'd get peed on less. The list could go on.
But then I think of all the reasons I do this job. The people can't be beat, and the variety of the work is irresistible as I get to use my mind and body every single day. The farm traditions – working with my family and seeing the 'farm love' in my 3-year-old nephew's eyes – get me up every morning. The sense of importance that accompanies our job of actually feeding the world hits me hard, and to state it simply, getting to know my cows has been the pleasure of my life.
It's so easy to get bogged down by all of the very legit, logical reasons farmers have to leave this business, but what's keeping me here has such a hold on my heart that my head doesn't stand a chance.
Lady Gaga says it best, "I've got a hundred million reasons to walk away, but baby I just need one good one to stay."
And let's be real, I wasn't going to go to the gym anyway.
---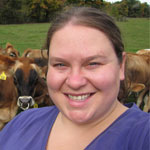 The author dairies in partnership with her parents and brother at Spruce Row Farm in Pennsylvania. Jessica is a graduate of Pennsylvania State University, and since 2015, she has been active in promoting dairy in her local community. You can find her and her 250 Jersey cows on Facebook at Spruce Row Dairy or on Instagram at @seejessfarm.