Everybody loves a good road trip, and the Hoard's Dairyman and Hay & Forage Grower editorial staffs are no different. The third week of June, the team grabbed our camera gear, packed our notebooks, and loaded up in two cars for the great state of Michigan.
The objective of our trip was pretty straightforward – find some excellent farms representative of the state's burgeoning dairy industry. Michigan has accounted for 2.5 billion pounds of growth in milk production from 2010 to 2016, an impressive 30.6 percent of the six-year growth rate.
Taking the road tour of the fifth-highest milk-producing state allowed our team an up close and personal encounter with herds along all parts of the spectrum from small to large. We also heard stories of family tradition and rebuilding after major disasters. Some farms green chopped while other farms grazed and still others fed traditional TMR rations. One lesson was quite clear as we scribbled in our notebooks and clicked our cameras – farms have to find the way to dairy that is best for them.
The trip served another purpose for our team and our interns that came along – a valuable opportunity to work on our photography and interview skills.
Across the two and a half days, the team visited eight dairies, one processing plant, and three beef operations. Keep a look out for our upcoming stories on some of these dairies and enjoy the video at the top of the page of some of the pictures and videos we took along the way!
Special thanks to the following places that let us tour their facilities!
• Sand Creek Dairy
• Choate's Belly Acres
• Horning Farms
• Henk de Vor Dairy
• Goma Dairy Farm
• Voogt Farms
• Cook Dairy
• Oak Row Angus Cattle
• Wernette Farms
• Shupe Dairy
• Prime Land Farm
• Michigan Milk Producer's Association plant
---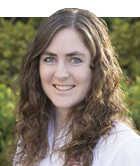 The author is an associate editor. She covers feeding and nutrition, youth activities and heads up the World Dairy Expo Supplement. Maggie was raised on a 150-cow dairy near Valley Center, Kansas, and graduated from Kansas State University with degrees in agricultural communications and animal sciences.