I have been watching the news and it seems some kind of disaster has been affecting everyone across the U.S.
Our farm is about 30 miles west of Augusta, Ga., which is located 125 miles upriver from Savannah. We are preparing for heavy rains and some 60 mph winds. It is hilly here so flooding is not usually a problem.
If Hurricane Irma comes at us we know we will be checking fences, running generators, and hauling water to our heifer farm.
My mom's side of the family is from Florida, and we have family in Savannah. All are watching the storm track and we anticipate having some of them as guests by the weekend.
I also have a VW bus on the way that we will put under a barn. A retired military dad was asking on Facebook for someone to please shelter it. The dad is restoring it for his daughter and has not put the windows back in it yet.
We live in a time of great divisions, but somehow these natural disasters have people all over the country doing what they can to help others. This is a great country, full of great people, who seem to become even better when tested with adversity.
I sure hope this storm turns away and heads back toward the Atlantic. I worry about my Florida, Georgia, and South Carolina dairy pals as well as the cotton and peanut farmers nearby who could potentially lose their crops.
Pray and prepare seems to be on the agenda in the Southeast this week. We will test run the generators, take in people evacuating, and like most dairymen do, ride out the storms.
---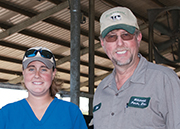 Mark and Caitlin Rodgers are dairy farmers in Dearing, Georgia. Their "Father and Daughter Dairy Together" column appears every other Thursday on HD Notebook. The Rodgers have a 400-cow dairy that averages 32,000 pounds of milk. Follow their family farm on Facebook at Hillcrest Farms Inc.
---
Join us next week
The webinar "Management approaches to minimize nutrition-related health and production issues" will be held on Monday, September 11, at noon (Central time).
Cow health and productivity can suffer based on the performance of a dairy nutrition program being compromised. Managers can enhance production and improve cow well-being by implementing nutritional protocols. Join us as Diamond V's Bill Stone presents the webinar. The September webinar is sponsored by Kuhn. Register at www.hoards.com/webinars.