As a farmer, you put your heart and soul into what you do. You live, eat, and breathe the work you do. It is not a job but a lifestyle. It can bring you great joy one moment and heartache the next.
What we do is not for the faint of heart or the weak of mind. What we do is taxing on the body and at times, the heart and mind. What we do is not for ourselves but for our family, our animals, and the betterment of our environment.
I cannot think of a better scenario than a farm to raise a family and give back at the same time. We love what we do and wouldn't change it for the world.
What we do is in our blood and it is a part of who we are. We give everything we have in order to succeed, but sometimes the stress of it all is too much. In an article published by the CDC (Centers for Disease Control and Prevention), farmer suicides in 2012 were the highest per 100,000 people in their study. According to the CDC study, farming had the highest suicide rate overall, posting 84.5 people per 100,000 individuals and 90.5 people per 100,000 individuals among males.
Why are these numbers so high? The theory behind the elevated suicide rate, according to the CDC, includes social isolation, high-risk financial situations, and unwillingness to seek mental help, if it is even available.
This needs to stop. Depression and anxiety are not weaknesses. They are battle scars that need to be tended to. If left unresolved, a once small symptom can spiral into a festering condition that can lead to unneeded heartache and pain not just for you but those that love you as well. There is never a bad time to seek help.
There is help available to those who need it via churches and toll-free numbers. But as a community, we need to keep our ears open and eyes peeled for those who are suffering. Our dairy farming career is not getting any easier, and without intervention this statistic will continue to grow.
If you need to talk to someone, help is available at the National Suicide Prevention Lifeline. The phone number is 1-800-273-8255. It is open 24 hours a day, seven days a week.
---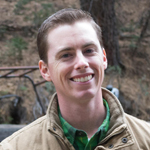 Tyler Ribeiro is a fourth-generation dairy farmer born and raised in California. He is currently partners with his father at Rib-Arrow Dairy in Tulare where they proudly ship their milk to Land O'Lakes. Tyler is actively involved in the dairy industry, holding leadership roles in various organizations locally and across the United States.