photo credit: Amanda Freund
I had grown up on our family farm my entire life but never really got involved in our finances until 2009. That year is my starting point, and as far as I am concerned it has been the biggest learning experience of my life.
I graduated from college in 2012 and started full time on the dairy just in time to see the industry at our breaking point. I knew if I wanted to stay in dairy, we had to change the way we did things. Every decision we made had to be purposeful and planned — no exceptions. I started looking at ways to save money and cut spending, but what I found left a mark so giant that it changed the way we managed.
At one point we had so many cows in the special needs barn that our little bulk tank could not hold all the milk meant for the calf ranch. I had a choice: buy a bigger tank, or figure out why we had so many cows that needed treatment and fix the cause.
After some digging, I found the root of many of our issues. I found the single most important time in a cow's life that could almost forecast her entire lactation: the transition period.
The biggest question is when does the transition truly begin? The answer is the first day of the dry period. I can guarantee that if a cow does not have everything she needs metabolically and physically from day one in her dry period to 20 days in milk or more, she will let you know of it. A lot of people underestimate the importance of that time period, but more often than not you can trace many late lactation issues to dry period follies.
What I found was that our management techniques had room to grow. What we thought we knew was not exactly correct, and the implications from something that seemed unimportant had lasting effects.
For example, did you know that a difficult calving can cause chronic mastitis later in a cow's lactation?
Did you know that your success in the transition period is linked directly to conception rates?
Or did you know that you could potentially improve milk production and livability while reducing pharmaceutical costs by doing a little homework?
The basics of a cow have not changed much over the years. It is our knowledge of the cow that is evolving. With this knowledge, we are able to better care for the animals that take care of us.
My challenge of the day for you: How can you improve the transition period?
---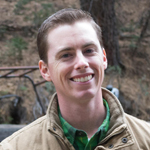 Tyler Ribeiro is a fourth-generation dairy farmer born and raised in California. He is currently partners with his father at Rib-Arrow Dairy in Tulare where they proudly ship their milk to Land O'Lakes. Tyler is actively involved in the dairy industry, holding leadership roles in various organizations locally and across the United States.