There isn't much to laugh about these days on dairy farms. Low milk prices and a world of other troubles might surround us, but I was taught from a young age that a healthy dose of laughter goes a long ways.
I was reminded of this the other day when I was spending time with some friends that don't have strong ties to agriculture. I had worn a dairy themed shirt to a party, and throughout the night enjoyed a wide assortment of cow puns and jokes. I bet you've heard them all. "Let's get moooving," one friend said. Another quipped, "That's udderly ridiculous"
I couldn't help but sarcastically think, "Wow, I've never heard that one before."
Before that came out of my mouth though, I caught myself. These people were not only enjoying themselves, they were also allowing me a touch point to my favorite topic – talking about dairy.
In fact, these opportunities are around us all the time to not only answer someone's question, but also to tell funny stories about growing up around cows and agriculture. I have a million of them, and I love to drag these stories out at parties.
There's the one time I got to go on a three-hour cattle chase through town because we were in the wrong place at the wrong time and were pulling a trailer. There's the time I learned about the purpose of an electric fence. There's the time I shared a box of Nilla wafers with my show heifer resulting in a bellyache for myself and a bit of a slight sweet tooth for my calf.
I think it is those memories that can pull our friends, particularly those not in agriculture, into our world. It's perhaps equally important to share our general knowledge and our bad days. However, every good story begins with a hook. One of the best hooks is a humorous story.
So next time you are on the receiving end of a dairy related joke, take a breath, and reply, "What do you call a cow with no legs? Ground beef."
---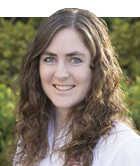 The author is an associate editor. She covers feeding and nutrition, youth activities and heads up the World Dairy Expo Supplement. Maggie was raised on a 150-cow dairy near Valley Center, Kansas, and graduated from Kansas State University with degrees in agricultural communications and animal sciences.